The power of collaboration. The benefits of being part of a coworking community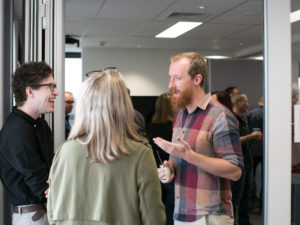 Two weeks ago I was reminded of the power of collaboration. On Wednesday we were very fortunate to have Paul and the team from Cut Out Communications shoot our space and create a testimonial video of our members. Speaking over a great cup of locally sourced White Horse Coffee and a delicious Doughnut Time doughnut, I was able to connect with our members and I was invigorated at how inspiring it was to collaborate with the like-minded people within Inspire Cowork.
Feeling inspired by my recent conversations, here are my thoughts on the 5 benefits I believe working in a collaborative coworking space gives your business.
Collaboration provides you with a platform to bounce your ideas off like-minded people:
Working in a coworking space gives you the opportunity to bounce your ideas off people within various professions. There are countless occasions when I am on a certain track and ask for some advice from someone in a completely different industry, and it steers me in an entirely different direction. This, in turn, benefits my work. Bouncing your ideas off like-minded people who have no hidden agendas gives your business that extra edge.
Collaboration creates a sense of community:
Collaborating with like-minded people creates a sense of community instead of the isolation which often comes with growing a business, or freelancing. Often, you feel lonely when working behind a computer all day, particularly when you're in your home office or in a shared office space. Working in a coworking space eliminates the loneliness and heightens the social aspect of your day to day work life by creating a community of like-minded people.
Collaboration increases your productivity:
Working in an environment which increases the positive effects of a workplace increases your personal productivity. Being surrounded by motivated people, in an environment which encourages productivity and fun, you feel determined to get your work done with minimal procrastination.
Collaboration holds you accountable:
Inspire Cowork boasts over 40 businesses within the space. Working in an environment where you collaborate and connect with the same people almost daily, it's a great way to be held accountable. If you have asked someone on Monday for advice or assistance whilst grabbing a cup of coffee and you see them again on Wednesday and they ask how you are doing with the business, you want to be able to give some tangible answers.
Collaboration makes you happy:
There is no better feeling than doing something you love every day. To be able to do what you love and be in an engaging environment whilst doing it, you've hit the jackpot. Working in a collaborative coworking space ticks all the boxes. Being surrounded by like-minded people boosts your confidence, motivation, and productivity which is a perfect formula for happiness.
If you're looking to make your own entrepreneurial journey a more fulfilling and productive one, then think about finding a collaborative coworking space which boasts a community of like-minded people. At Inspire Cowork, we place an emphasis on the balance between enabling our members to collaborate and connect, but at the same time taking advantage of being by yourself to run your business. This not only allows for great networking opportunities but also encourages productivity and accountability for your business.
If you are in or near the Sutherland Shire come and say hello at Inspire Cowork, we'd love to meet you. Contact us today.