Coworking done right! Quite open plan office space
Every week I find the time to research and read articles in relation to my industry. I carve out at least 2 hours a week to do this. I find it important to not only keep up with current trends but also read articles which were posted a number of years ago to see if anything has progressed or if any trends were missed or had fallen by the wayside.
I stumbled across an article dating back to 2014. It was in the Washington Post and titled "Google got it wrong. The open-office trend is destroying the workplace". Owning a coworking space, you can imagine how this heading grabbed my attention. I opened the article and started to read it. I always try to stay objective when I read negatively spun articles, particularly when it relates to my industry. It's very easy to have a bias when your bread and butter is the business in which they are saying is destroying the workplace.
As I was reading the article I started to make a few points and it all really came down to these three vital issues.
Appropriate noise absorbing systems for the office space.
Culturally implementing a mix of having somewhere to work from.
Your own space with studios.
The article illustrated a picture in which everyone was in the "bullpen". The below picture which was in the article optimizes the problem of both the open plan and industrial style trend combined which amplifies the noise. You will notice in the picture, all the hard surfaces are concrete and the ceilings are open with no ceiling tiles which just bounce off the noise, becoming a major distraction.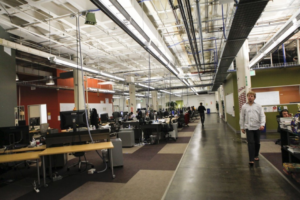 I'm a UX designer, I need an environment in which noise doesn't distract me. I enjoy being around like-minded people and gaining the benefit of being part of a community. For me, it's about turning the distracting noise to background noise. How do you do this? At Inspire Cowork we spent a lot of time and capital ensuring we succeeded in this.
We utilized 1.0 rated noise absorbing ceiling tiles
Sound baffled walls
Plants
Noise absorbing carpet
You have to do all of these to ensure your distracting noise becomes background noise. Whether you have 1 person or 50 people in the office, it needs to be implemented to avoid the echo in the office.
The original approach of activity-based working is popularized by the open plan offices, which was never the intent of the coworking movement. Companies implement an open plan approach and even worse hotdesking without any cultural change or design to suit the problems/activities the business needs to solve. For example, agile and pair programming needs teams and walls for Kanban but that doesn't mean teams can't have walls for their area.
If you're in a sales or recruitment style role and need to be on the telephone most of the day, you need a space which allows you to do your job without being distracted or becoming the distraction in the workplace. This is why it is so vital for a company which is implementing an open space model to ensure they determine what type of space they need for the flexible activities their employees perform.
At Inspire Cowork we understand the challenges of being in a shared workspace. In saying that, we believe the positives are far greater. For an entrepreneur being in a collaborative environment in which you are surrounded by like-minded people and a community in which you can bounce your ideas off is so valuable beyond any price tag.
We have created a workspace which meets the needs of any profession. We have built 5 sound protected phone booths for those who need to have a private conversation, we have studio offices for those who need a private space but still want to be around like-minded people, we have 5 meeting rooms for anyone to utilize part of your monthly membership and so much more.
If you want to learn more about Inspire Cowork or have any comments or questions on the above, please don't hesitate to send me an email, give me a call, or pop into the coworking space for a cup of coffee. We are the largest coworking space in the Sutherland Shire and are based on Level 2, Kiora Mall, Miranda.