Serviced Office VS Coworking – Sydney Australia
The verdict is in, being stuck in a room by yourself or with your small team might sound like a good idea for privacy but there is a reason coworking is exploding in growth and thats because it helps you grow your business. Being around other growing businesses gets you to think about working ON your business instead of only IN your business.
Checkout the latest Google trends graphs in the last 10 years: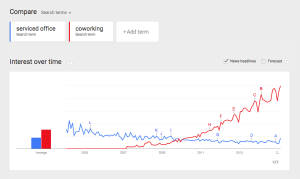 The growth in interest is on coworking. Coworking is not only for startups, it's open to freelancers, companies wanting to be around innovation or even corporates letting their employees working from their local area (AKA Workhubs) instead of spending 2hrs or more on the commute.


Want to see what all the fuss is about? Try it yourself Contact Us to see if there are any 1 week free trials available.